Today, we launched a new "recurring purchase" feature, which means that our users can now automatically purchase cryptocurrencies at a minimum price of 10 euros through simple settings.
You can use it from our mobile app "bitFlyer Wallet", which is available on iOS and Android.
The smartest and easiest way to invest in cryptocurrency
Simple setup
Arrange regular purchases in several steps
Automatic purchase
Buy cryptocurrency every day, every week, every two weeks or every month
From small to large
Set up regular purchases as low as 10 Euros or as high as 10,000 Euros
Are you interested? Download our app and start trading now!


There is a chance to win 10 Euro worth of BTC through repeated purchases!
Available encryption
Regular purchases can be used with all 7 cryptocurrencies currently processed on our platform:
Bitcoin (BTC)
Ethereum (ETH)
Ethereum Classic (ETC)
Litecoin (LTC)
Bitcoin Cash (BCH)
Monaco (MONA)
Lisk (LSK)
Purchase frequency
You can choose daily, weekly, biweekly and monthly.
Minimum purchase amount
The minimum setting is 10 Euros.
Regular purchase fee
There is no additional cost for regular purchases. Click here for details of other fees.
Available equipment
The recurring purchase function can be used on our mobile app "bitFlyer Wallet" (iOS, Android)
*Web version will be supported in the future.
Start in minutes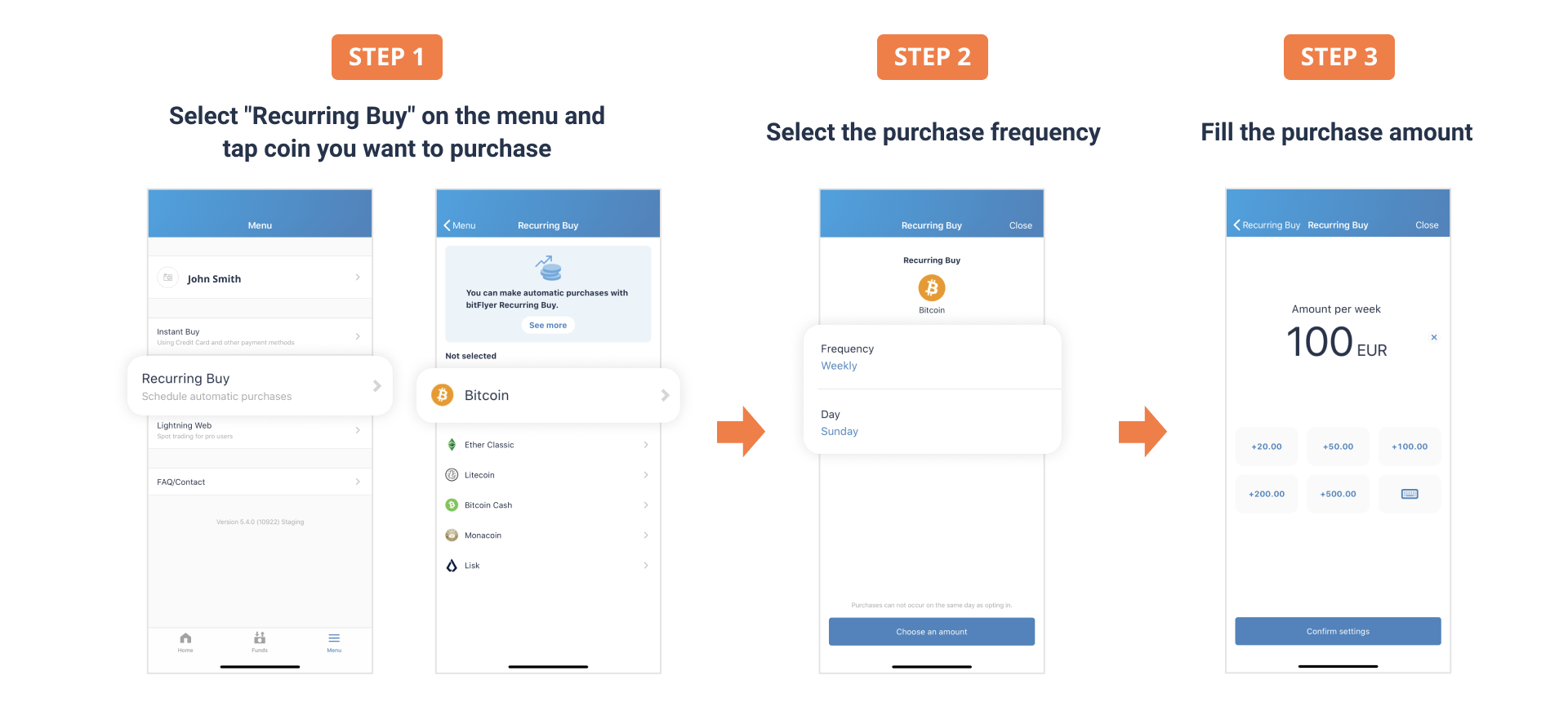 ---
Important notes:
*Please make sure you have sufficient funds in your bitFlyer account before the scheduled purchase date. If the balance is insufficient, the purchase will not be executed.
*Unless the purchase is not executed, the automatic purchase plan will not be cancelled.
*The purchase time cannot be specified. bitFlyer will determine the time of purchase on the specified date.
*The rate at the time of purchase will be based on the price at which we buy/sell services.
* A system failure on the bitFlyer side may make it impossible to execute purchases. In this case, no automatic purchase will be executed until the next scheduled purchase.
---